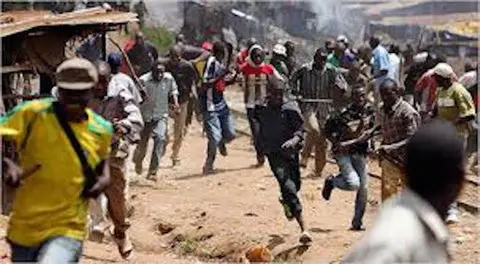 A total of 13 people, including two policemen, were killed in a communal clash in Benue State and bandits' attacks in Niger State.
While 10 people were killed yesterday in Agatu Local Government Area of Benue State following a clash between Adana, Olegeje and Olegogboche communities, bandits killed three people, including two policemen, in separate attacks on communities in Niger State.
Also, troops of Operation Whirl Stroke (OPWS) have nabbed a local militia leader, popularly known as Alhaji Audu from Olegeje community, and recovered one AK-47 rifle and 60 round of ammunition from him during the clash.
Earlier, some militia groups had attacked three communities of Adana, Olegeje and Olegogboche all in Agatu Local Government Area of Benue State.
The attacks were allegedly led by Audu and other members of his militia group.
They had launched an attack on Adana community which led to the death of 10 persons, while others sustained injuries.
It was initially alleged that the attack was carried out by herdsmen.
But a resident of the community, Job Emakwo, said it was a communal clash involving the three communities as a result of the activities of some militias in the areas.
He told reporters that Audu and his group went to Adana in search of one of their gang members and started shooting sporadically in all directions, killing two persons on the spot and injuring others.
Emakwo added that there was a misunderstanding between the three communities over a parcel of land, which earlier had claimed the lives of some persons.
He said immediately troops of OPWS stationed in Agatu heard about the clash, they rushed to the affected communities and stormed a militia camp and apprehended Audu.
Audu was said to have been later identified as one of the leaders of the local militia who instigated the fight among the three communities.
He said the troops recovered one AK-47 rifle and 60 rounds of 7.62mm ammunition with two magazines from Audu.
When contacted, OPWS Force Commander, Maj. Gen. Adeyemi Yekini, said he could not comment on the Agatu attack and directed further enquiries to the Defence Headquarters (DHQ) Information Department.
Also, the Public Relations Officer, Benue State Police Command, Catherine Anene, a Deputy Superintendent of Police (DSP), confirmed that there was an attack in Agatu, but the police were yet to establish whether it was caused by herdsmen or was due to a communal clash.
Anene could not also confirm the number of death at the time of the report, but said policemen who were deployed in the area to maintain peace were yet to establish contacts with her due to network problem in the area.
Also at the weekend, two policemen were killed in a shootout with bandits at Kussau village in Erena district of Shiroro Local Government Area of Niger State.
The third person was earlier murdered in Gurmana village in the same local government area.
The two policemen were identified as an Inspector and a Corporal and were said to have accompanied some engineers of the Shiroro Hydro Electric Dam on routine maintenance of some installations.
They were said to have died after running into the gunmen and exchanging fire with them.
One of the bandits, according to a report, was killed though the engineers they were detailed to protect escaped.
The police, however, did not confirm the death of the policemen as the Public Relations Officer of Niger State Police Command, Wasiu Abiodun, an Assistant Superintendent of Police (ASP), said: "Two policemen are missing after an encounter with some armed bandits at Kusasu village in Shiroro Local Government Area."
He confirmed that the two missing policemen were among those detailed to provide security to some engineers from Shiroro Hydro Electricity dam on routine maintenance work of power facilities
Warning
: count(): Parameter must be an array or an object that implements Countable in
/home/headlin1/public_html/wp-content/plugins/ultimate-author-box/inc/frontend/uap-shortcode.php
on line
94
style="display:none;">
Sorry! The Author has not filled his profile.
×
Sorry! The Author has not filled his profile.