The Attorney-General of the Federation (AGF) and minister of justice, Mr Abubakar Malami (SAN), wants the acting chairman of the Economic and Financial Crimes Commission (EFCC), Mr Ibrahim Magu, fired.
According to a report by ThisDay, Malami has gone ahead to recommend same to President Muhammadu Buhari.
Malami, in a memorandum to the president, anchored his recommendation on several grounds "raging from diversion of recovered loot to insubordination and misconduct" by Magu.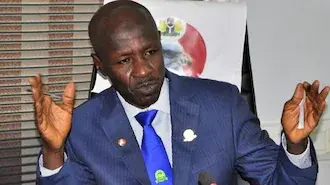 The report further revealed that Malami included a shortlist of three candidates for consideration to replace Magu.
Given the weight of Malami's allegations against Magu, sources quoted in the report say the president may be inclined "to set up a probe panel that will look into the veracity of the allegations and make necessary recommendations."
Malami alleged accounting gaps or discrepancies of figures concerning the recovered assets, claiming that Magu was not transparent enough in the management of recovered assets.
Magu, 58, is a Nigerian police officer who also served during Nuhu Ribadu's time at the anti-graft agency and was credited with part of the success Ribadu recorded in his time.
In April 2018, the Police Service Commission announced the promotion of 18 senior officers where Magu was promoted to the rank of commissioner of police from deputy commissioner of police
21st Century Blogger with a Difference !!!
×
21st Century Blogger with a Difference !!!