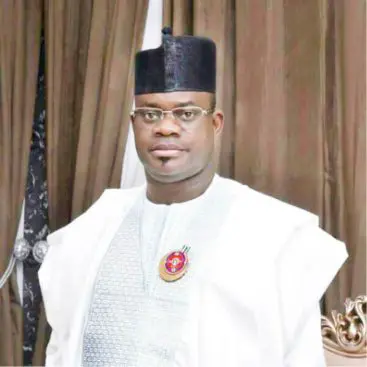 Kogi state governor, Yahaya Bello, on Monday took the oath of office for another term in office.
Bello and his deputy, Edward Onoja took the oath administered by the Chief Judge of Kogi state, Justice Nasiru Ajanah at the Lugard House seat of power in a low-key ceremony.
The governor in his inaugural speech named 17 commissioners-designate which he said, would be screened by the State House of Assembly on Tuesday and sworn-in on Wednesday.
The commissioners-designate include Fanwo Kingsley, Bashir Gegu, Engr. Abubakar Ohere, Wemi Jones, Asiru Idris, Omofaiye Adewale and Isah Achaba.
Others are Abdulsalam Didat, David Apeh, Joseph Baron Okwoli, O'Neil Ejigbo, Idris Musa, Abdulmumini Danga, Dr Saka Haruna, Hajia Fatima Kabir Buba, Gabriel Yunusa Olofu and Mohammed Sani Ibrahim.
According to Bello, his 'Next Level' administration in Kogi state will rely on synergy at every stage, primarily the one between the people and the government but also with a wide array of domestic and international investors, service providers and development partners spread across the public and private sector.
"By the grace of God, the oath of office I have just taken is a pact to do right by all citizens as the 4th Executive Governor of Kogi State. In this second and concluding term of my constitutional tenure as Governor, it shall be the principal preoccupation of my administration to bring revitalised energy to bear in delivering refocused governance," he said.
He stressed that his overall mission is to develop Kogi state into Nigeria's foremost and most-secured emerging commercial hub through optimization of the state's geographical location, natural endowments and human resources for a sustainable future.
The governor noted that he ran for second term with the slogan, 'Let's Do More', and made a strong case for re-election by showing his first term achievements while undertaking to improve on them.
"Kogi voters have re-elected us with the most historic margin in a gubernatorial election ever seen in this state and it is now incumbent on us to keep our electoral promises and we shall do just that.
"My primary allegiance as Governor will remain to Kogi state and her citizens, not to party or tribe. Everyone is my citizen and I owe everyone the protections and fidelities inherent in the office," he added.
Warning
: count(): Parameter must be an array or an object that implements Countable in
/home/headlin1/public_html/wp-content/plugins/ultimate-author-box/inc/frontend/uap-shortcode.php
on line
94
style="display:none;">
Sorry! The Author has not filled his profile.
×
Sorry! The Author has not filled his profile.