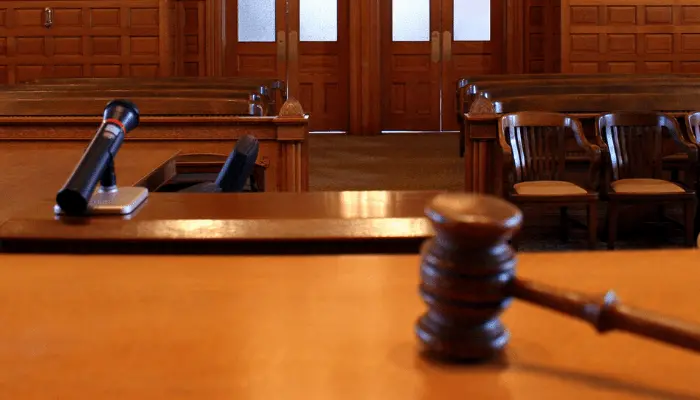 The Federal High Court sitting in Benin City renewed its order restraining the APC, Oshiomhole and INEC from going ahead with direct primary election in Edo State.
At the resumed hearing, counsel for the Defendants informed the Court that they have filed an appeal at the Court of Appeal Benin to challenge the order of the court and asked the court to stay further proceedings in the matter.
Counsel for the plaintiffs objected to the request citing a Supreme Court authority on the point, which is to the effect that there must be a positive order of the Appeal Court before such an application can be granted. The Court then adjourned to give a ruling on the issue.
During the brief break a mild drama ensued when a supporting lawyer in Adams Oshiomhole's legal team, by name Peter Uwadia threatened to go physical with another lawyer, who is an official of the Edo State Government.
From eye witness account, Mr Uwadia rudely interrupted a conversation between the government official and another lawyer. He was advised to mind his business and that made him to flare up. He even went as far as pulling his lawyer's wig and gown and moved menacingly towards the other lawyer. It took the intervention of the police orderly to the presiding Judge to restore calm in the court room.
Even after the government official left the court room in the interest of peace, Mr Uwadiae in a similar manner launched his attack on the other lawyer, which made the latter to leave the court room.
It was confirmed from reliable sources that Mr. Uwadia in conjunction with one Barrister Douglas Ogbankwa, who hails from the east, were the duo responsible for moblising the thugs that disrupted court proceedings of Hon. Justice Eboreime at the Abudu High Court about a fortnight ago.
When the court resumed from the break, the Judge, Justice Umar said he was going to grant a further adjournment to get details of the said appeal, but renewed his earlier order restraining the defendants from taking any further steps on the mode of the APC primary election in Edo, until the final determination of the suit.
The matter was adjourned to June 17 2020 for continuation of hearing.
Warning
: count(): Parameter must be an array or an object that implements Countable in
/home/headlin1/public_html/wp-content/plugins/ultimate-author-box/inc/frontend/uap-shortcode.php
on line
94
style="display:none;">
Sorry! The Author has not filled his profile.
×
Sorry! The Author has not filled his profile.