Minister of state for Petroleum Services Dr. Ibe Kachikwu is enmeshed in a certificate scandal.
Earlier today, it was revealed according to an investigative report by Premium Times and DUBAWA, that Kachikwu's claim "that he graduated from the University of Nigeria, Nsukka, with first class honors is false," as his alleged certificate says differently.
Now he has come forward to release a personal statement and respond to the allegations of lying about making a first class.
See his series of tweets below.
Earlier today my attention was drawn to a publication on @PremiumTimesng with the title "FACT-CHECK: Document shows Kachikwu lied about graduating with First Class in Law". In the next series of tweets I would be giving my personal statement on the issue for the sake of clarity.. pic.twitter.com/QH2Gd85AMQ
In the publication the writer alleged that I, Dr. @IbeKachikwu misrepresented information about obtaining a First Class Degree from the prestigious University of Nigeria Nsukka, citing a presentation made at @cozaglobal Abuja. I would like to categorically state the following;
My official CV and resume is in the public domain and has been submitted to various levels of Government and Parastatals. Also the document clearly states that I obtained a "Second Class Honours (Upper Division) degree" from the Faculty of Law at the University of Nigeria Nsukka
In addition, no First Class Honours were awarded by University of Nigeria Nsukka (UNN) in 1978. However, I was on the list for best graduands with Second Class Upper Honours for that year. At no time have I misled the Nigerian public or my colleagues in believing otherwise.
2. On the presentation I made at @cozaglobal cited by @PremiumTimesng, the substance of the assertions was to the effect that I had a first class performance in school and was emphasizing on the need for hard work amongst youths to get them to the top of their game.
http://3.To  give credence to the statements made during that presentation, I was the best graduating student in the Nigerian Law School in the year 1979 (the first in class) with multiple prizes (winning 5 out of all 7 prizes given).
In 1979, the Nigerian Law School had not begun a process of classifying its certificates. That begun many years later. However best graduands have subsequently now been classified in the First Class category by the Law School.
My results in Harvard University, which is captured in my CV correctly states that I was a Distinction graduate for the Master's degree programme (First in Class) at Harvard University and I went on to obtain my SJD in a record time of one and a half years.
4. I have worked at the highest level of the Oil and Gas industry globally for over 3 decades and indeed lectured at respectable global institutions like University of Ife, Nigerian Law School and Harvard Law School.
5. Since my appointment three years ago, first as GMD of @NNPCgroup, then as GMD/ Honourable Minister of State (HMSPR), and now as HMSPR of @FMPRng, I have championed the change agenda in the Petroleum sector and changed the narrative on performance in the sector.
Read his statement below.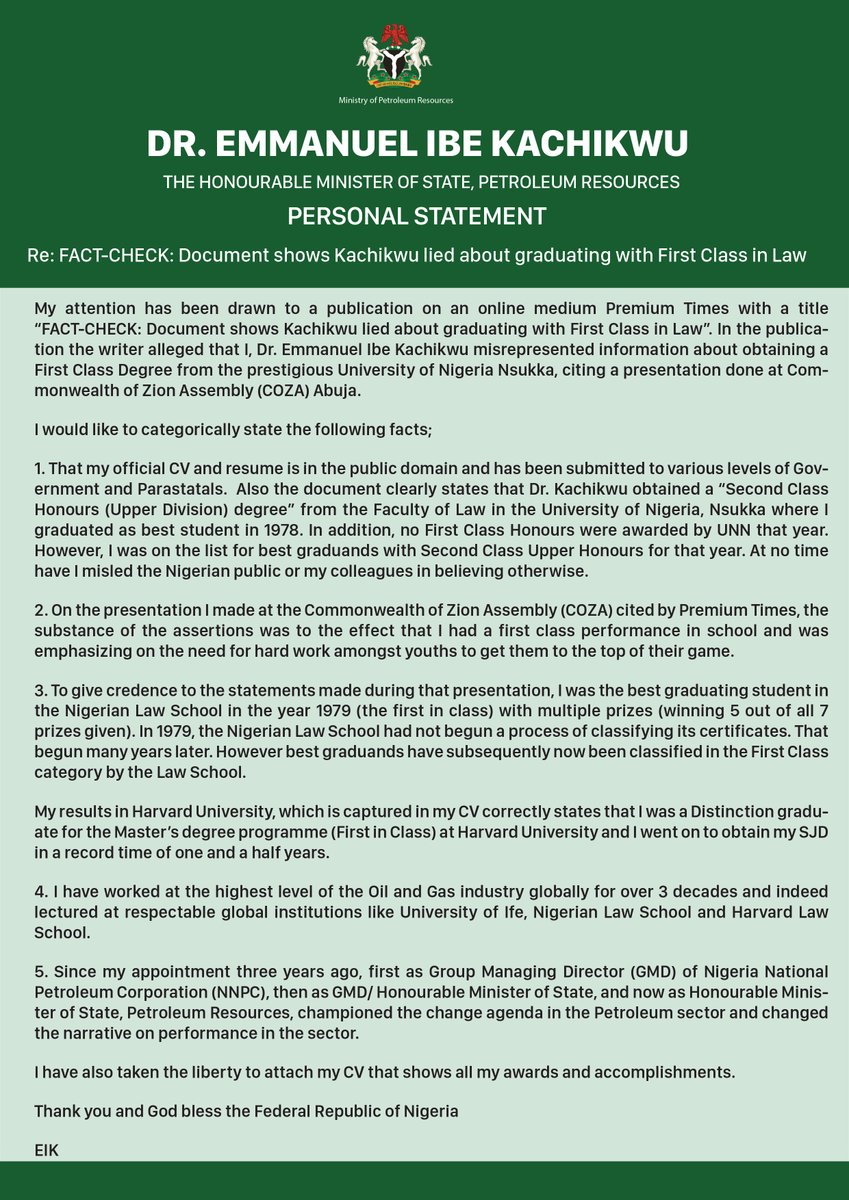 Photo Credit: Twitter.com/IbeKachikwu
Warning
: count(): Parameter must be an array or an object that implements Countable in
/home/headlin1/public_html/wp-content/plugins/ultimate-author-box/inc/frontend/uap-shortcode.php
on line
94
style="display:none;">
×
Sorry! The Author has not filled his profile.