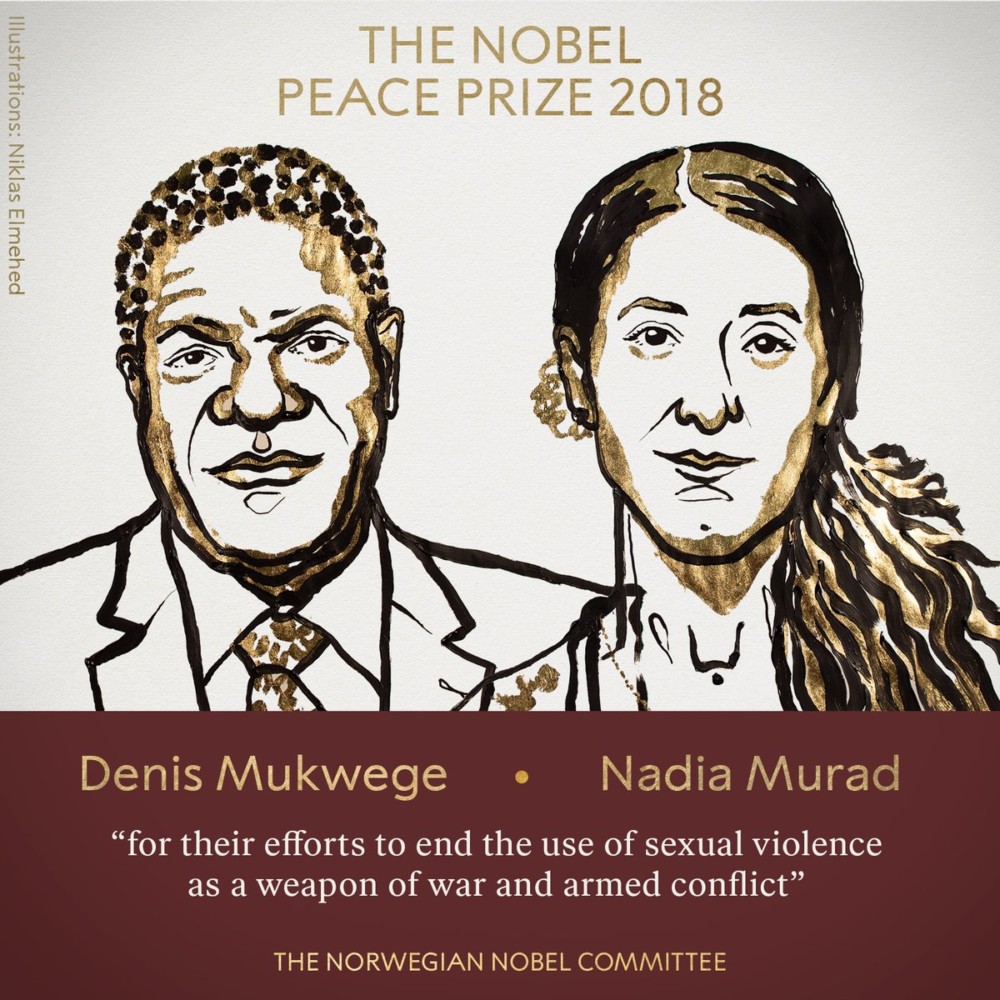 The Norwegian Nobel Committee has announced Dr. Denis Mukwege and Nadia Murad as winners of the 2018 Nobel Peace Prize for their efforts to end the use of sexual violence as a weapon of war and armed conflict.
"2018 Nobel Peace Prize laureate Denis Mukwege is the helper who has devoted his life to defending victims of war-time sexual violence. Fellow laureate Nadia Murad is the witness who tells of the abuses perpetrated against herself and others," the institute said in a tweet on Friday.
Describing Mukwege, the institute wrote:
The physician Denis Mukwege, awarded the Nobel Peace Prize, has spent large parts of his adult life helping the victims of sexual violence in the Democratic Republic of Congo. Dr. Mukwege and his staff have treated thousands of patients who have fallen victim to such assaults.

This year's Peace Laureate Denis Mukwege has repeatedly condemned impunity for mass rape and criticized the Congolese government and other countries for not doing enough to stop the use of sexual violence against women as a strategy and weapon of war.

Denis Mukwege's basic principle is that "justice is everyone's business". The 2018 Peace Laureate is the foremost, most unifying symbol, both nationally and internationally, of the struggle to end sexual violence in war and armed conflicts.
Watch a documentary from 2016 about Dr. Mekwege's work:
On Murad, the institute said:
Nadia Murad, awarded the 2018 Nobel Peace Prize, is the witness who tells of the abuses perpetrated against herself and others. She has shown uncommon courage in recounting her own sufferings and speaking up on behalf of other victims.

Nadia Murad is one of an estimated 3,000 Yazidi girls and women who were victims of rape and other abuses by the IS army. The abuses were systematic and part of a military strategy. They served as a weapon in the fight against Yazidis and other religious minorities.

Following her escape from IS, Peace Laureate Nadia Murad chose to speak openly about what she had suffered. In 2016, at the age of just 23, she was named the UN's first Goodwill Ambassador for the Dignity of Survivors of Human Trafficking.
Watch the moment the announcement was made:
Watch the moment the 2018 Nobel Peace Prize is announced.

Presented by Berit Reiss-Andersen, Chair of the Norwegian Nobel Committee. pic.twitter.com/fIv2yWPxE6

— The Nobel Prize (@NobelPrize) October 5, 2018
Warning
: count(): Parameter must be an array or an object that implements Countable in
/home/headlin1/public_html/wp-content/plugins/ultimate-author-box/inc/frontend/uap-shortcode.php
on line
94
style="display:none;">
×
Sorry! The Author has not filled his profile.