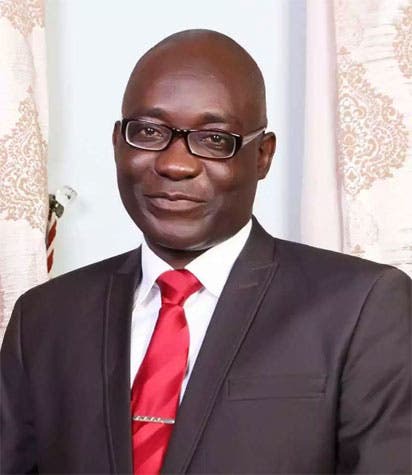 Eleka
Media Aide to a former deputy governor and PDP candidate in the 2018 election, Mr. Adebisi Adeola, has assured that his principal will contest the PDP primary election slated to hold next year, adding that no amount of shenanigans can stop his divine calling to serve the people of the state.
Adeola stated that it is imperative that Prof. Kolapo Olusola, who served under the last administration as a deputy governor, performed excellently well with utmost loyalty and commitment to the successful completion of Fayose's led administration.
Reacting to the rumor making the round that the University Don does not have structure to achieve his governorship ambition, Adeola said "My principal is in contact with stakeholders across the state."
"Prof. Eleka is not a noisy man who displays his political permutations to the world. Of course he has his strategies intact which other aspirants cannot match.
"Eleka's candidacy is no doubt a threat to some power blocks who are of the opinion that the party will be returned to the grassroots if he wins at the poll. We have it in good authority that, PDP delegates across the state have concluded to take their destinies into their hands by entrusting power in a candidate who is more accessible and trustworthy.
"It is no more a news that Prof. Kolapo Olusola Eleka has gained momentum in the last few months, given the testimonies from respective stakeholders who are decision makers in the party, He said."
While saying that against the rhetorics from Eleka's opponents that he has stepped down for a candidate or will not pursue his divine call to serve good people of Ekiti state to a logical conclusion, he added that his boss remains an aspirant to beat in the forthcoming primary election.
Adeola further maintained that "People of unquestionable characters like Prof. Eleka are also welcome to the race since such is a constitutional right of every individual.
"As a party, we must be able to state clearly what we want and how to oust the current All Progressive Congress, APC in Ekiti given its poor performance in delivery of dividends of democracy.
"Prof. Eleka has a prepared developmental document and how to implement his policies for the state. His Shield Agenda is encompassing and timely to nip various challenges facing Ekiti in the bud."
Appealing to respective delegates and stakeholders of PDP to put premium on competence, party loyalty and experience, he said Eleka is ready to serve the party and Ekiti people diligently.
For a balanced and factual reportage, Headline News365 is your plug.
×
For a balanced and factual reportage, Headline News365 is your plug.