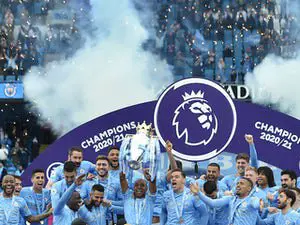 Manchester City manager Pep Guardiola has blasted the awards system in English football.
The Spaniard while speaking to the BBC suggested that the awards are always geared around Liverpool success just hours before the Jordan Henderson was named as the FWA Footballer of the Year for the 2019/20 season ahead of Kevin De Bruyne.
When asked for his thoughts about the awards, Guardiola said: "No no, it will be won by a Liverpool player. When we won the Premier Leagues it was won by a Liverpool player.
"When they win the Premier League I'm pretty sure they are going to win the player of the season, so this award is always for Liverpool."
Two seasons ago, as City set new records and surged to the 100-point barrier in top-flight football, Kevin De Bruyne missed out on the big award to Liverpool's high-flying Mohamed Salah.
Came last season where City and Liverpool battled down to the final day of the campaign and Guardiola's men won by a single point, Liverpool again took the individual spoils with De Bruyne and Raheem Sterling being snubbed for Virgil van Dijk.
It remains to be seen how Guardiola will react after Henderson was offered the award this coming after the midfielder was named as the Football Writer's Awards player of the season, ahead of De Bruyne.
De Bruyne has continued to shine in the assist charts this season where he has 19 assists to his name this season, followed by Liverpool's Trent Alexander-Arnold (13), Andy Robertson (11), and Salah (10).
"This award is always for Liverpool" 👀

Pep Guardiola isn't confident Kevin De Bruyne will be named PFA Player of the Year today.#ManCity #LFC
21st Century Blogger with a Difference !!!
×
21st Century Blogger with a Difference !!!