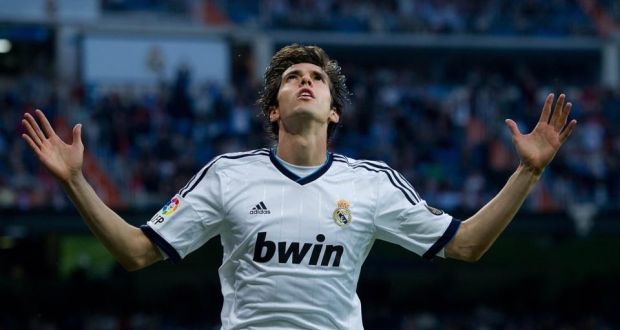 "I had 2 problems at Real Madrid; one was injuries and the other was Mourinho. I was completely destroyed at Real Madrid" – Kaka
In 2008, Ricardo Kaka was on top of the world at just 26 years old. This young man had already won a World Cup with Brazil, the Serie A and Champions League titles with AC Milan.
He was also just about to receive his very first Ballon d'Or; the last person to ever win it before the Messi and Cristiano Ronaldo era.
So how did the world's best footballer at the time start to decline only a few years later?
How It All Began
Let's take you back to 2002, where a young 20-year old Ricardo Kaka was just beginning his professional career at Sao Paulo FC in Brazil.
Coming fresh off a season where he had just led his team to its first and only Torneio Rio-São Paulo championship. The following summer in the 2002 World Cup in South Korea, Kaka would be called up to join the Brazil's Men's team.
If you don't remember how dominant this Brazil team was. They had guys like Ronaldo, Ronaldinho, Rivaldo, Roberto Carlos and Cafu, all of whom are legendary Brazilian players that were all superstars in their respective clubs.
Although Kaka was the youngest player on that Brazilian squad, his coach Luis Felipe Scolari, did let him play significant minutes because he believed Kaka could be nurtured into another world-class Brazilian talent.
While Kaka might not have been a starter, he did play a lot of minutes for a guy who was the youngest member on the squad and help them secure their spot in the final.
Wooing Young Kaka
Brazil would end up becoming the champions of the 2002 World Cup, and big European clubs finally started to pay more attention to the young Kaka after seeing his skill and composure on the world stage at such a young age.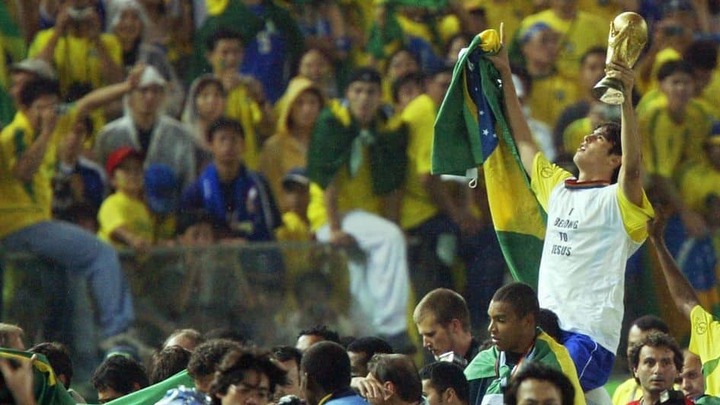 In 2003, that attention would finally lead to AC Milan chasing for Kaka's signature. Only 21 years old at that time, it would only take him a couple of weeks to finally break into the starting 11 for Milan.
Dining With The Men
Kaka's style of play would almost immediately start making an impact on his squad. He would play as the Central Attacking Midfielder behind the legendary Striker Andriy Shevchenko while supporting Andre Pirlo, Clarence Seedorf, Massimo Ambrosini, and Genarro Gattuso which, if you ask me is a very solid midfield lineup.
This AC Milan squad with Kaka would end up becoming the 2003-2004 Serie A champions, bringing him his very first trophy playing for a European club.
The Shining Star
This was only the start of his success and glory years with the club. In 2005, Kaka helped his team win the Super Copa Italiaand help Milan progress into the Champions League Final.
Although, they unfortunately lost 2-3 in a penalty shootout against Liverpool, Kaka still had an amazing season landing him the Serie A Player of the Year award, UEFA Midfielder of the Year award and his very first Ballon d'Or nomination.
In his last two seasons with Milan, Kaka broke out into superstardom as Andriy Shevchenko's departure to the Premier League opened up Kaka as the main offensive option for Milan.
In 2006-2007 season, Kaka won his first Serie A Player of the Year award, was the UEFA Champions League Top Scorer, was awarded the Champions League Golden Boot, won the Champions League and was named into FIFA World 11.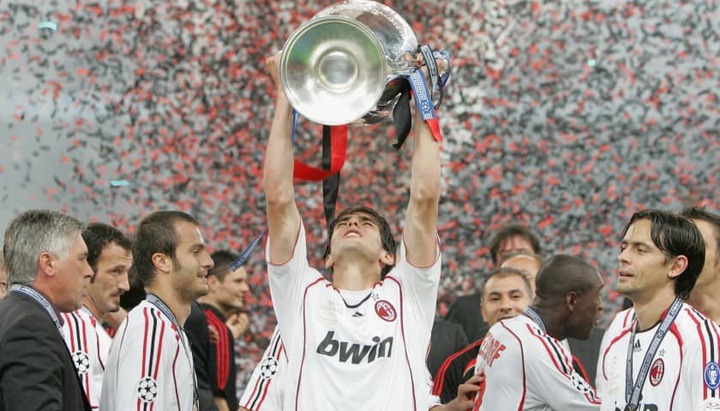 In 2007, he won his second Serie A Player of the Year award, was named into his second FIFA World 11, won the UEFA Super Cup trophy, won the FIFA Club World Cup Trophy, Golden Ball, Leader in Top Assists of a FIFA World Player award, and the 2007 Ballon d'Or.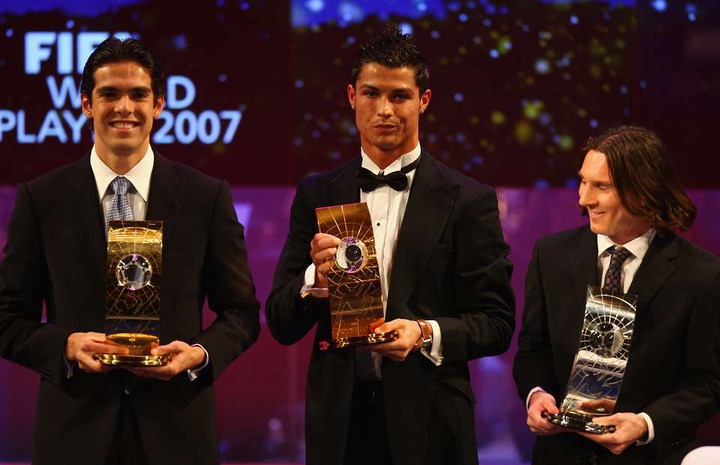 Unlike many other famous players like Adriano who lived their life partying and binge drinking, Kaka was surprisingly a devout Christian.
Kaka was so famous and successful in his last two seasons with AC Milan that he became the world's very first athlete to reach over 10 million Twitter followers.
I mean, can you imagine that no other athlete had ever amassed such a huge following before he had. Not even Ronaldinho, Thierry Henry, Frank Lampard or Tiger Woods.
Welcome To Real Madrid
Many clubs wanted Kaka for the following season after seeing how dominant of a player he was.
After all the speculation, Real Madrid finally moved in to make a whopping 68.5 million euro transfer fee.
But not only did they get Kaka, but they also made a record-breaking transfer fee of 94 million euros for Cristiano Ronaldo.
Kaka's first year with Real Madrid in the Spanish La Liga was looking good so far. He scored 9 goals and had 8 assists in 33 games without having to bear the offensive load as he did in Milan.
Dark Clouds
But unfortunately, Kaka's season was cut short when he faced a knee injury and had to get surgery to relieve the prolonging pain.
Kaka would sit out until halfway through the 2010 Spanish La Liga season, but when he was finally declared fit to play, he scored 7 goals and had 6 assists in 20 appearances.
Once again, Kaka was unfortunate to have been recommended for surgery after he was diagnosed with Iliotibial Band Syndrome, a painful condition in which connective tissue rubs against the thighbone.
Kaka ended up having to sit out the remaining of the season again. Because Madrid really needed a Central Midfielder, they proceeded to sign Mesut Ozil as a replacement for the injured Brazilian while he recovered.
The Jose Mourinho Factor
During this trying time, another crucial change rocked the Santiago Bernabeu. Former Chelsea coach Jose Mourinho was appointed by the echelon of the Real Madrid team as the Head Coach.
From there, things would start to go downhill for Kaka while he was out. His replacement Mesut Ozil began to impress Josie Mourinho.
Everyone was expecting Ozil to go back to the bench after Kaka had been healthy again but Mourinho had other plans.
Left Out In The Cold
Kaka's position was under major threat. Instead of his starting position at midfield when he returned from injury, Kaka was gradually getting frozen out of the starting lineup.
He often came on as a substitution playing significantly less minutes and his influence on coach Jose Mourinho would start to diminish.
Kaka's number of goals and assists became less and less every season. Most of the time, he never even got an opportunity to play.
Kaka once said in an interview that he was completely destroyed at Real Madrid and that his relationship with Coach Jose Mourinho was very difficult.
He reiterated that Jose Mourinho was a very difficult coach to work with, and that every time he believed that he would get a chance to play, it never really happened.
Kaka was quoted as saying, "I didn't get the chance to prove my form to him. I trained hard, fought and prayed so much, but without the coach having faith in me, I realized I couldn't work with him."
Ricardo Kaka, who was once hailed as the best footballer in the world few years earlier, became a regular benchwarmer.
Back To Base
After the 2013 season with Real Madrid, Kaka headed back to AC Milan. This move prompted him to say, "I was so happy after leaving Real Madrid and returning to Milan, especially after Mourinho had said that I was one of the most professional players that he had ever worked with."
Kaka would never return back to his athletic and top form but he was still a great midfielder and playmaker.
After one final season with AC Milan in 2014, he moved on to the MLS and played for the Orlando City Football Club.
Home Sweet Home
From the MLS side, he went on loan back to his earlier club Sao Paulo before returning to Orlando city in which he finally retired in 2017 at the age of 36.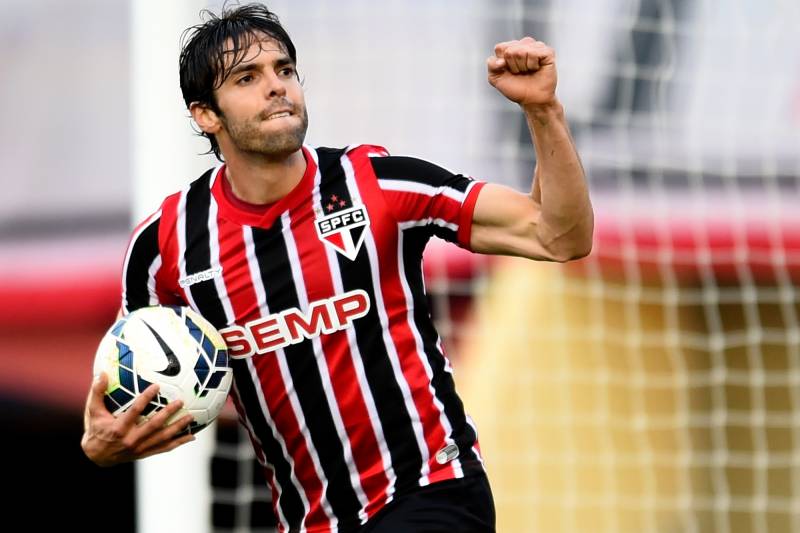 Ricardo Kaka would be remembered for his famous goal against Manchester United at Old Trafford in the 2006-2007 UEFA Champions League Semi-final.
Click here to watch that famous goal scored by Kaka. Manchester United fans will never forget it.
Conclusion
Honestly, it's really sad to see such an amazing talent like Kaka go to waste. The injuries he suffered from shortened his prime years and his fitness. We could have seen many more years and seasons of being in top form.
21st Century Blogger with a Difference !!!
×
21st Century Blogger with a Difference !!!