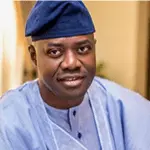 A Senator representing Oyo North senatorial district in Oyo State, Andulfatai Buhari has said that he was not convinced that Governor Seyi Makinde actually contracted COVID- 19 and tested negative after five days, saying that he must have had ordinary dry catarrh.
Buhari, who said this during an interview in Ibadan, insisted that he believed so going by non-chalant manner he had been treating the pandemic with the partial lockdown the state had been observing since its breakout in March.
Buhari said: "When you compare the decision of Governor el-Rufai and Governor Bala of Bauchi and that of Governor Seyi Makinde of Oyo who all claimed they tested positive to coronavirus, the truth of the matter in my own opinion is that Governor Seyi Makinde only had catarrh and not coronavirus.
"I said this because if he actually had coronavirus, he would not be taking such porous decisions about the issue. "After the first, second and third test, Governor Rufai said he would never wish what he went through for his worst enemy, and that he was in hell in the first five days of his treatment. The first five days that was supposed to be the worst period throughout the world was when our own governor dramatically came back and said he was already tested negative.
"Our governor said that he was tested but the NCDC said publicly on Channels Television that they were not the one that tested Governor Makinde. He was tested probably by Professor Temitope Alonge.
"In the whole world today, my governor has gone into the Guinness Book of Record as the only person who contracted coronavirus and within five days came out and in seven days he had started having meeting with his Exco. "We need to lock down and know the people we are testing. We need total lockdown in Oyo. I am even averse to some senior cadre of civil servants resuming work at the Secretariat. "It is not yet time for that. We didn't do lockdown and so we don't know the real number of people already affected. "Governor Makinde needs to up his game in consonance with the reality on ground."
21st Century Blogger with a Difference !!!
×
21st Century Blogger with a Difference !!!