A Muslim cleric identified as Owolabi Yusuf, has reportedly been arrested by the police, after he allegedly killed and dismembered his girlfriend, Toluwalase Kembi, for ritual purposes in the Ikorodu area of Lagos State.
It was gathered that Toluwalase, a 20-year-old Business Administration student of the Federal polytechnic, Ilaro, Ogun State, was killed by Yusuf, after she came to his house to cook.
The young lady, who was declared missing in August this year, was alleged to be engaged to another man.
According to report, the deceased did not know that Yusuf had been paid to kill her for ritual.
The suspect was arrested in Ilorin, the Kwara State capital, after police tracked Kembi's mobile phone to a man, who revealed that he bought the phone from Yusuf.
It was learnt that Yusuf, who confessed to committing the crime, disclosed that he killed Tolu with a pestle, with the help of three others, who are now on the run.
He also confessed that he cut the victim into small pieces for ritual.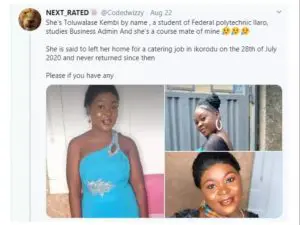 21st Century Blogger with a Difference !!!
×
21st Century Blogger with a Difference !!!