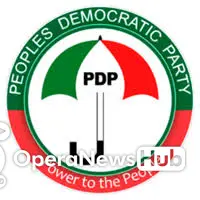 The Peoples Democratic Party, PDP in Imo State, has fingered Governor Hope Uzodinma and Senator Samuel Anyanwu, for the resignations of some members of the State Executive of the party.
At a press conference at the PDP headquarters, Okigwe road, Owerri, Acting Chairman of the party, Mr.Martin Ejiogu, alleged that the Governor through a former Chairman of the party, Charles Ezekwem, induced those who have resigned and assured them of more benefits when they cross over to the All Progressive Congress, APC.
The PDP executive in Imo State had been hit by resignations of it's Publicity Secretary, Asst Publicity Secretary, Youth Leader and Assistant Fianancial Secretary.
Also, Zonal Publicity Secretary who hails from Imo State also quit the party
Ejiogu, said the resignations of some of the party exco members, "constitute a band of Senator Samuel Anyanwu loyalists who worked vehemently against the interest of the party during the 2019 general elections.
"Besides, they had in principle left the party a long time ago, what played out earlier today was a mere drama, a dummy from a script that had been written months before now" he said
Ejiogu said the claim, that they defected as officers of "our great party is a clear misrepresentation, obsessed fallacy and the height of mischief. By the party Constitution, their tenure expired more than two months ago as they had served out their four years term"
"It is however imperative to observe that their so called defection to the APC was essentially orchestrated by selfish motive because of the zoning arrangement of the party which did not favour them" the party chairman said
Ejiogu said the party consider their defection as "banal, inconsequential, and worthless"
21st Century Blogger with a Difference !!!
×
21st Century Blogger with a Difference !!!