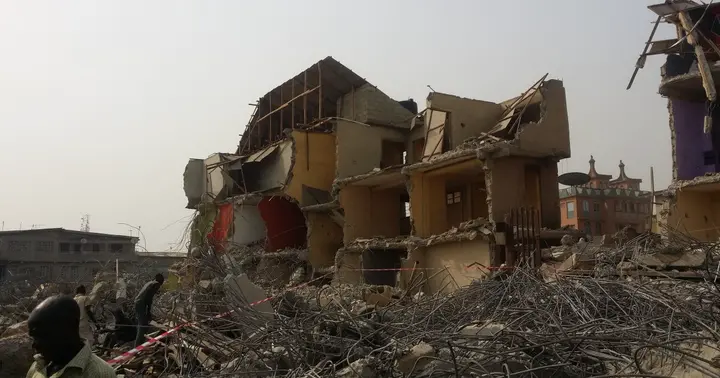 A pregnant woman has been rescued from a building which partially collapsed on Thursday around Ashade behind Guiness in Agege, Lagos State.
The woman, whose identify could not be ascertained as at the time of filing this report, was rescued alongside another woman who is an occupant of the same building.
The pregnant woman was said to have fainted as a result of the shock but was revived later.
Three other buildings were also said to have partially collapsed in the same area as a result of heavy downpour being witnessed in Lagos…
But no life was lost to the incidents.
The rain which has been pouring since around 5am on Thursday has caused many areas of the state to be flooded.
The flood which caused gridlock on some roads also sacked occupants of some houses in flooded areas in parts of Agege, Dopemu and Egbeda.
A resident of Akonwonjo area, Sunday Abodunrin, told our correspondent that some of his neighbours could not go out of their houses as flood had taken over their premises.
Spokesperson for the National Emergency Management Agency in the South-West, Mr Ibrahim Farinloye, confirmed the building collapse incidents to our correspondent.
He said, "Four buildings partially collapsed at Ashade Quarters behind Guinness. Two women, living at 26, Railway Line, including a pregnant woman were rescued from the scene.
" Also, 18 households living at18 Railway Line, Ashade Quarter, Agege were advised to relocate for their safety because the rains have weakened the building."
Meanwhile, the NEMA spokesperson has said the Minister of Humanitarian Affairs, Disaster Management and Social Development, Sadiya Umar Farouk, has appealed to parents and guardians to take special attention on their children and wards against playing in the rain or runningwater in the period.
She further appealed to Nigerians to relocate to upper ground as soon as they notice that drainages and canals were overflowing.
The minister also advised parents that in the process of relocation to higher ground, children and women must be monitored and protected.
She also appealed to motorists to be cautious while driving in the rain especially when there is flooding.
21st Century Blogger with a Difference !!!
×
21st Century Blogger with a Difference !!!