Skin color was at one time used as a criterion to define race, ethnic grouping, and tribes. Today, the distinct color lines are blurred and continue to have less definite racial implications as intermarriages across continents and ethnic groups become more common.
There is no health benefits to skin bleaching. Research and results aren't guaranteed and there's evidence that skin bleaching can result in serious side effects and complications as published by World health Organization.
Side effects are more pronounced on thin, highly vascularized skin and in the folds, face, eyelids, axillary areas, and groin, which show nasty rashes before the rest of the skin. The severity also depends on toxicity, concentration, duration of use, number of products used at one time, concomitant topical and systemic therapy for other conditions, and skin sensitivity.
Skin diseases and other medical conditions make the skin more vulnerable to skin bleaching preparations. One's lifestyle—exposure to workplace, home environment, leisure, contact with aggressive environmental conditions, charcoal fires, sunlight, dryness, lack of fresh air, and pollution—all compound the effects of the unknown substances used on the skin.
Damage produced includes skin atrophy, thinning, and breaking, giving rise to keloidal scarring, payroll dermatitis, contact allergic and irritant dermatitis, acneiform eruptions, striae, hypertrichosis, telangiectasia, and infections—fungal (Candida, dermatophyte) and bacterial (pyoderma, folliculitis, furuncles, impetiginous lesions, erysipelas).
Absorption of harmful substances can also lead to organ failure and death by poisoning.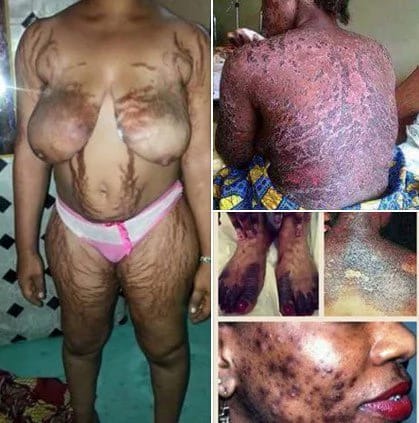 Warning
: count(): Parameter must be an array or an object that implements Countable in
/home/headlin1/public_html/wp-content/plugins/ultimate-author-box/inc/frontend/uap-shortcode.php
on line
94
style="display:none;">
Sorry! The Author has not filled his profile.
×
Sorry! The Author has not filled his profile.