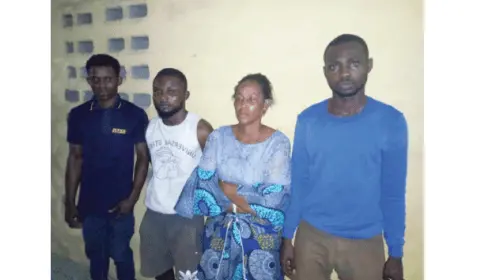 Policemen attached to the Bariga Police Station in Lagos have arrested a 41-year-old woman, Shade Moke, for allegedly hiring three men to beat her 16-year-old housemaid to death.
The maid, Halimat Sodiq, was accused of stealing her Madam's N2,000.
Moke allegedly carried out the dastardly act along with the three men identified as John, Issac and Akinseye.
The police said Moke and her hired thugs secretly buried the girl when they realised she was dead.
However, Moke denied killing or burying Halimat secretly.
A source said Moke allegedly gave the three men instructions to beat Halimat after inviting them to her shop, after which she went out.
Halimat fainted while being beaten by the men. One of the men called Moke, who returned to the shop. Halimat was rushed to Adeboye Hospital, from there to Maryade Specialist Hospital at Ilaje.
Maryade Specialist Hospital then referred her to Gbagada General Hospital, where she was confirmed dead.
Policemen from Bariga Police Station were alerted. Moke and the three men were arrested. But they all denied knowing anything about Halimat's death.
However, a nonprofit organisation, Advocates For Children and Vulnerable Persons Network, expressed fear that Moke must have bribed Halimat's mother, who is now saying she doesn't wish to pursue the case further or seek legal action.
One of the advocates said: "The mother of the late Halimat was confirmed to have shown up at the police station. This was after Moke called and informed her of the girl's death. Right there at the station, Moke pleaded with the woman, using money as inducement. Halimat's mother is now saying she doesn't want to institute a case against Moke and the three men."
Expressing dismay over the behaviour of some parents, who collect bribe in order to pervert justice, Mr. Ebenezer Omejilile, Manager at Advocates For Children and Vulnerable Persons Network, said: "The mother should be charged as an accomplice for being so irresponsible. This case should be used as an example to irresponsible parents whose children are killed by cold blooded monsters."
The state Police Public Relations Officer (PPRO), Bala Elkana, confirmed the incident.
Elkana explained that at least four suspects had been arrested over the murder of Halimat.
According to him, on May 9, about 11:30a.m., Bariga Police Station received information that Moke conspired with three others on February 29 and killed Halimat over an allegation of stealing.
He said: "The victim was a house help to Moke. She was accused of stealing N2,000 from her madam, which she repeatedly denied. The madam invited the remaining three suspects who tortured the girl to death. They buried her secretly at Atan Cemetery, Lagos, so as to conceal the murder. The four suspects were arrested but they denied the allegations. They, however, admitted slapping the girl for denying that she stole the money.
"They claimed that the girl went into convulsion after drinking water. They said that they took her to three different hospitals before she eventually died. They also admitted that the girl was buried by her parents, not them.
"The parents have also been contacted for their statements. The Lagos State Commissioner of Police, Hakeem Odumosu, has ordered the immediate transfer of the case to the State Criminal Investigations and Intelligence Department (SCIID), Panti, Yaba, for discreet investigation and diligent prosecution."
21st Century Blogger with a Difference !!!
×
21st Century Blogger with a Difference !!!